A LOOK INSIDE COLIN'S EVER-GROWING COLLECTION OF SPORTS MEMORABILIA, SIGNED SPORTING STUFF & JARMAGEDDON JUNK.
SOME ITEMS ARE FOR SALE, SO EMAIL COLIN TO MAKE AN ENQUIRY OR OFFER
Colin has set up UNIQUELY SPORTING to act as the Sports Memorabilia arm of the Jarmageddon empire.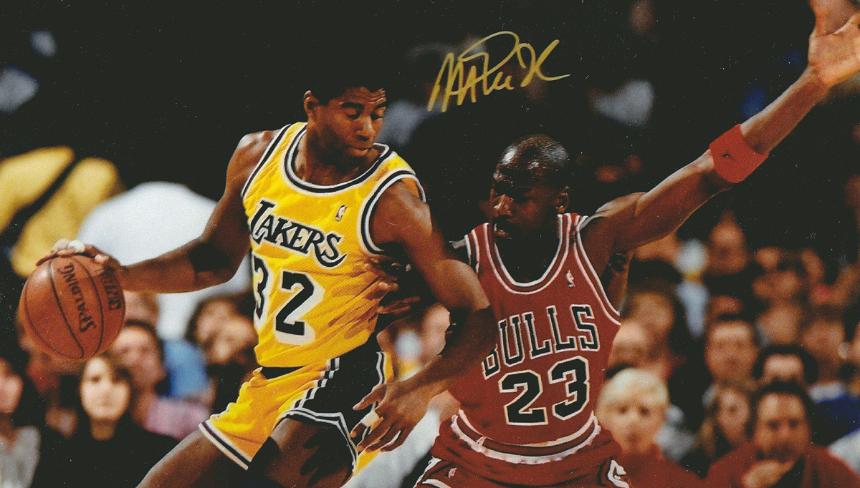 EARVIN 'MAGIC' JOHNSON (Lakers) signed photo with fellow NBA & TEAM USA legend Michael Jordan (Bulls)

SIR IAN BOTHAM signed First Day Cover and 1981 Ashes picture.
FOUR signed sports shirts...
1. Charlton Athletic signed by the entire 2005/6 squad. 2. Lyle & Scott golf shirt signed by Montgomery, Olazabal, Bjorn, Harrington et al.
3. Shoaib Akhtar's Pakistan World Cup 1999 shirt signed by Shoaib, Wasim Akram, Saeed Anwar, Abdul Razzaq, Salim Malik and Ijaz.
4. Wales national football shirt signed by various to be determined. Any ideas on these names?? Also unidentified stain!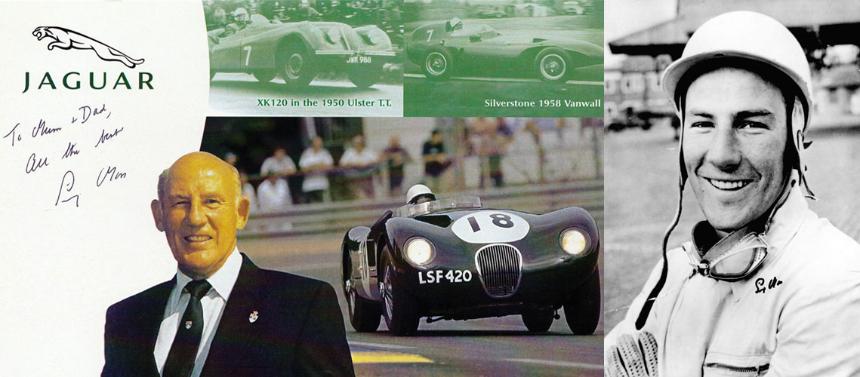 SIR STIRLING MOSS signed Jaguar Le Mans promo card + signed B&W photo from the 1950s.

1966 England v West Indies cricket bat signed by teams inc Sir Garfield Sobers, Lance Gibbs, Charlie Griffiths, Colin Cowdrey, Ken Barrington.

1. FRANK McLINTOCK signed photos from 1971 FA Cup Final 2. SIR TOM FINNEY signed book page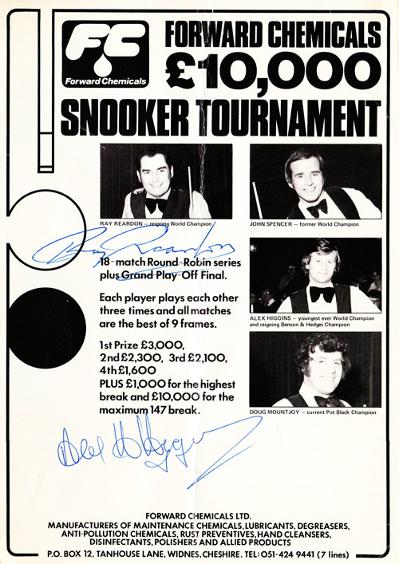 1979 Snooker League programme signed by world champions
ALEX HIGGINS & RAY REARDON [Winner]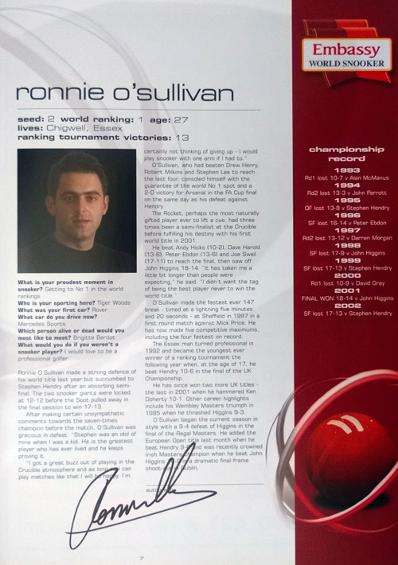 2003 Embassy World Snooker programme signed by nine World Champions including Ronnie O'Sullivan [above], Stephen Hendry, Peter Ebdon, John Higgins, Ken Doherty, Mark Williams & John Parrot plus Jimmy White.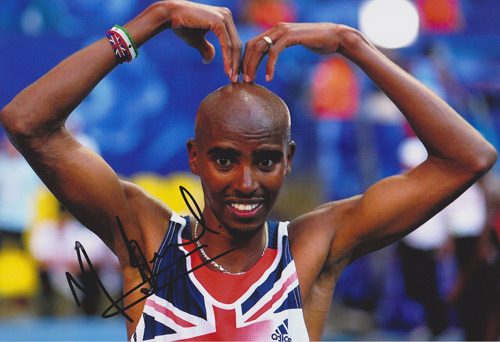 Olympic champion MO FARAH signed photo doing the Mobot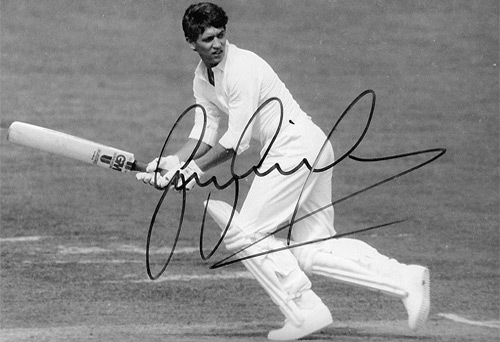 England football legend GARY LINEKER signed cricket photo.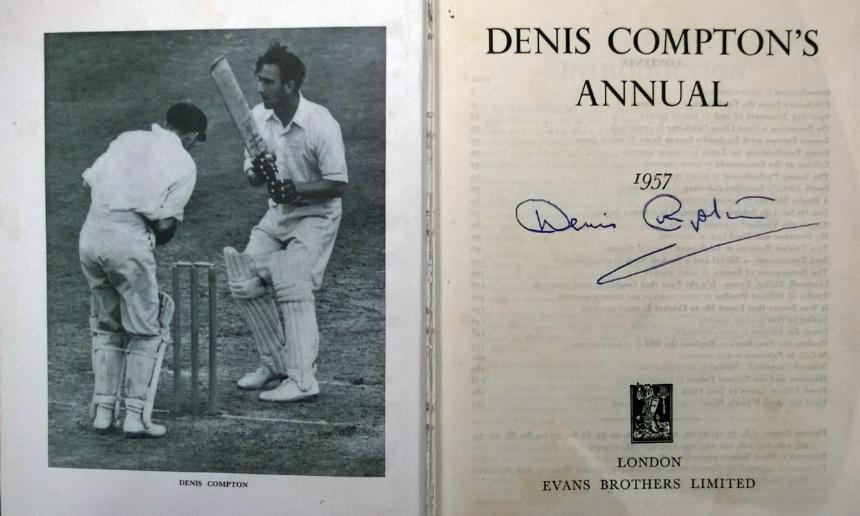 1957 Cricket Annual signed by England and Middlesex batting legend
DENIS COMPTON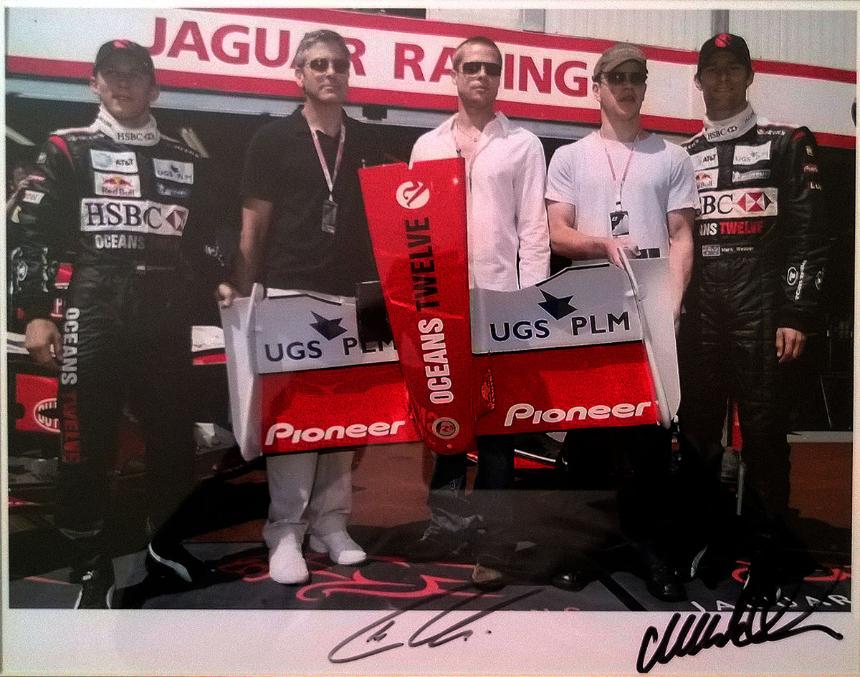 Formula One Jaguar Racing team drivers
MARK WEBBER
(right) and
CHRISTIAN KLIEN
(left) pose in the pits during practice for the
2004 Monaco GP with Ocean's 12 movie stars
GEORGE CLOONEY
,
BRAD PITT
&
MATT DAMON
. Photo signed by both Jaguar drivers.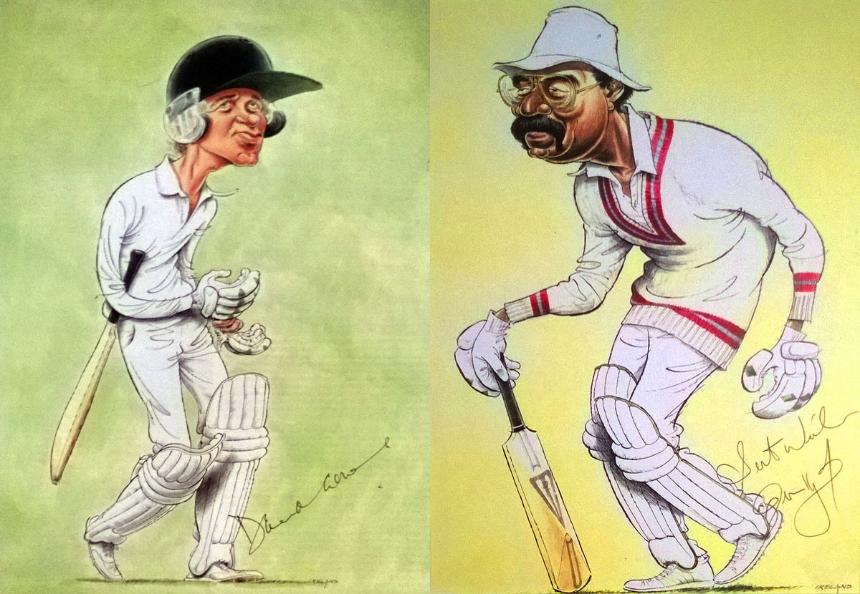 Signed John Ireland cricket prints. 1. DAVID GOWER (England) 2. CLIVE LLOYD (West Indies)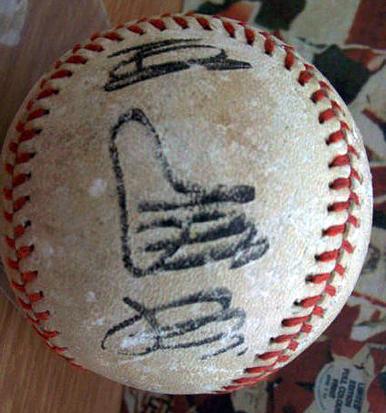 Official Yomiuri Giants baseball signed by Japan's home run legend
SADAHARU OH
王貞治
(circa 1970s)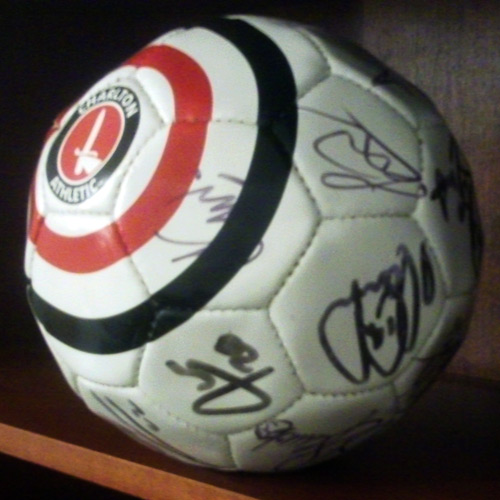 Official Charlton Athletic football signed by the 2008-09 squad including Jonjo Shelvey, Matt Holland, Zheng Zhi, Darren Ambrose, Lloyd Sam, Therry Racon, Jose Samedo, Nicky Weaver & Jonathan Fortune.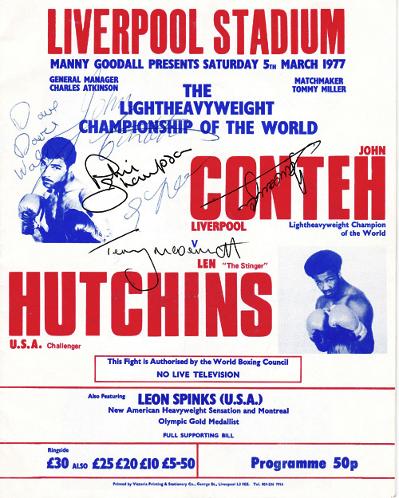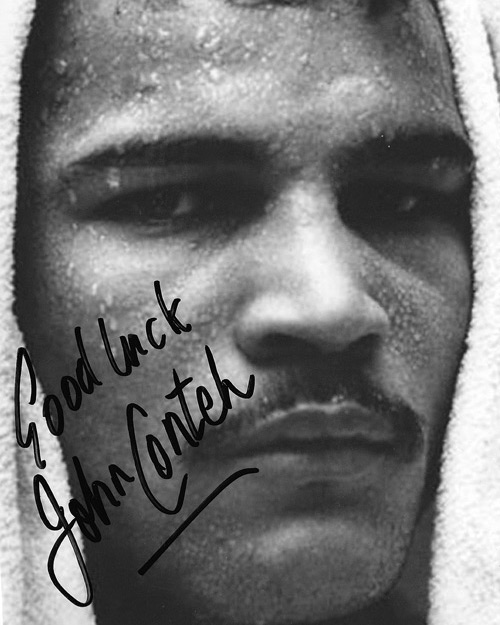 Liverpool boxing programme from 1977
signed by World Light-Heavyweight Champion
JOHN CONTEH
and Liverpool FC players: Phil Neal, Phil Thompson Terry McDermott & Ian Callaghan + Welsh boxer David Davies.
Also features Leon Spinks only appearance in the UK.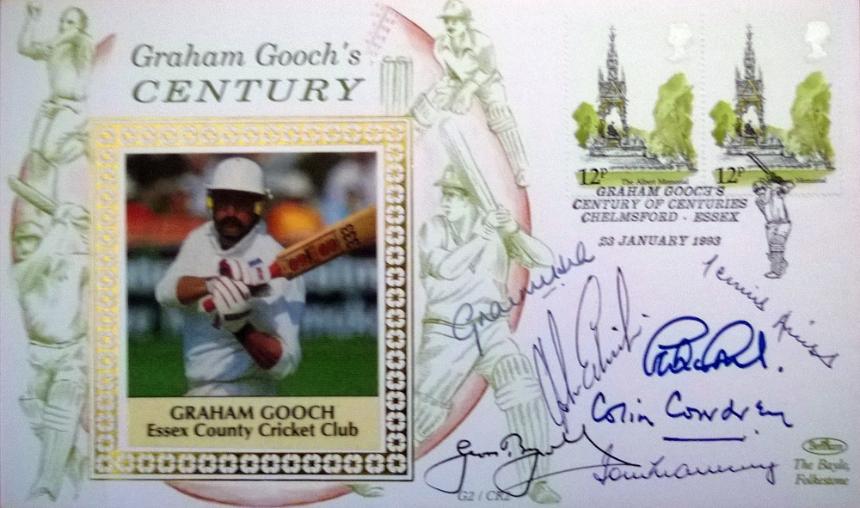 First Day Cover to celebrate GRAHAM GOOCH's 100th first-class century ... also signed by six other England test batsmen to hit 100 tons:
Tom Graveney, Colin Cowdrey, Dennis Amiss, John Edrich, Geoff Boycott & Graeme Hick.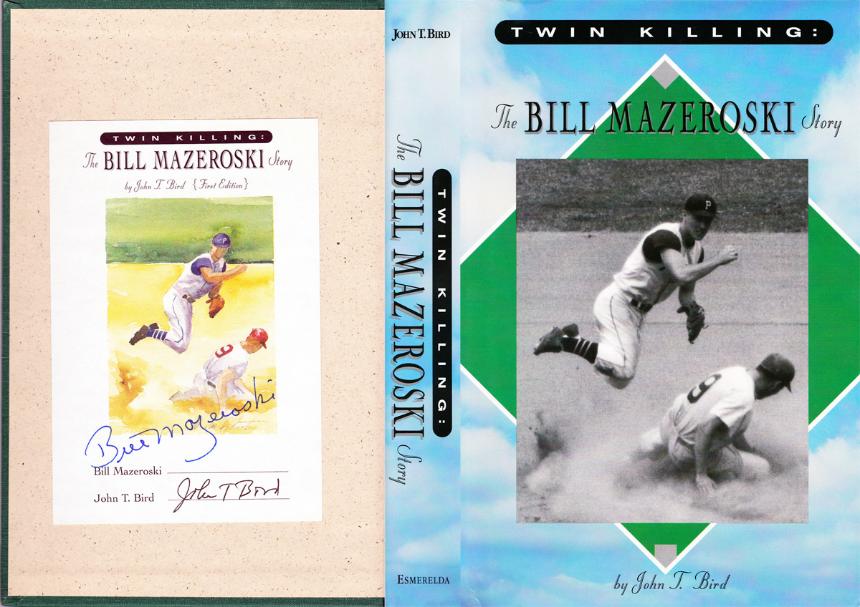 "The Bill Mazeroski Story: Twin Killing" First edition 1995 signed by
Hall of Fame Pittsburgh Pirates Second Base BILL MAZEROSKI and author JOHN T. BIRD
While one of the greatest defensive second basemen of all time, Maz is best known for winning the 1960 World Series with a dramatic game-ending home run against the mighty NY Yankees. Mazeroski's remains the only home run to win a World Series Game 7.

Australia cricket bat signed by the 1953 touring team to England including ...
Neil Harvey, Keith Miller, Alan Davidson, Richie Benaud, Ray Lindwall, Lindsay Hassett (capt), Arthur Morris (vc) and Don Tallon (wkt)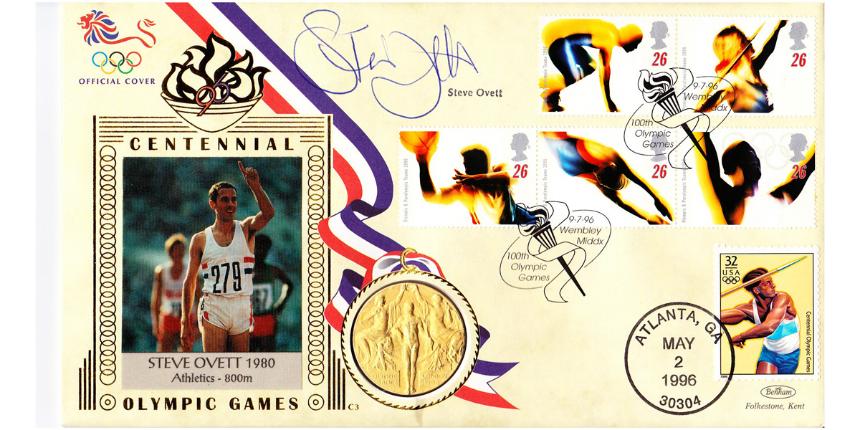 1996 Olympic Games Centennial First Day Cover - with commemorative stamps and 'gold' medal enclosed - signed by
1980 800m champion STEVE OVETT

Rare promotional mini hurling stick in county colours signed by Wexford & Leinster goalkeeper & 3-time All-Ireland winner
PAT NOLAN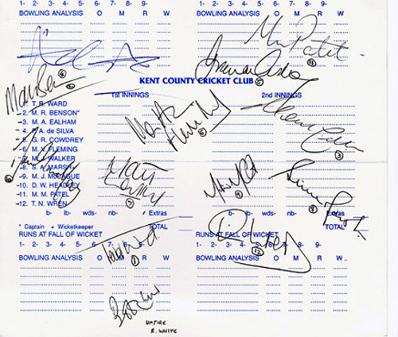 Arundel Castle CC First Day Cover signed by Kent's COLIN COWDREY
<< A 1995 county championship scorecard signed by Kent CCC: Trevor Ward, Mark Benson, Mark Ealham, Aravinda de Silva, Graham Cowdrey, Matthew Fleming, Matthew Walker, Steve Marsh, Martin McCague, Dean Headley, Min Patel, and Tim Wren.

A Gunn & Moore mini cricket bat signed by the 1992 Kent CCC squad including Mark Benson, Steve Marsh, Richard Ellison, Martin McCague, Carl Hooper, Alan Igglesden, Matthew Fleming, Graham Cowdrey, Mark Ealham, Trevor Wren, Richard Davis, Neil Taylor and Chris Penn.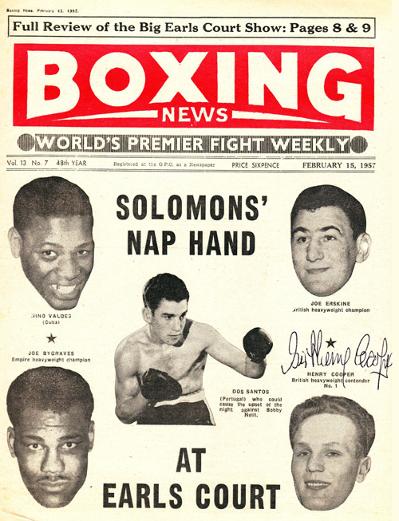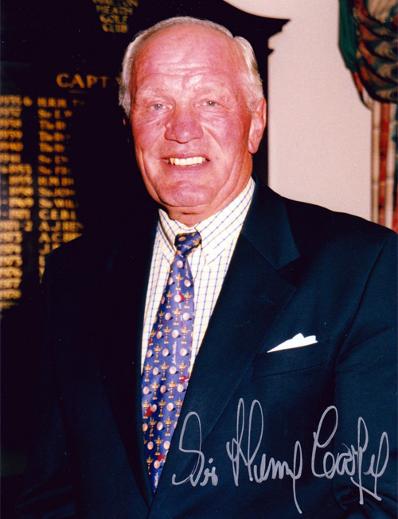 SIR HENRY COOPER signed "Boxing News" from Feb 15, 1957 and signed photo from his visit to Walton Heath GC for the 1981 Ryder Cup.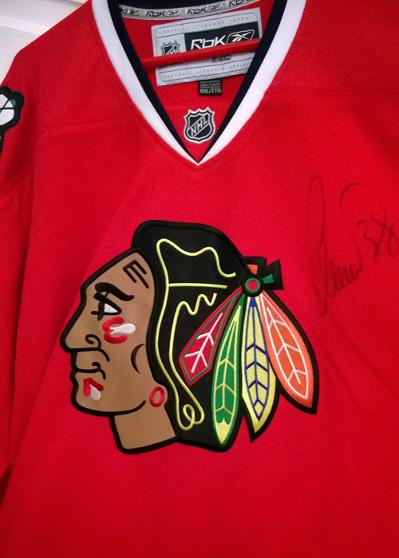 2010 Stanley Cup winner CHRISTOBAL HUET (Blackhawks goalie)
signed jersey.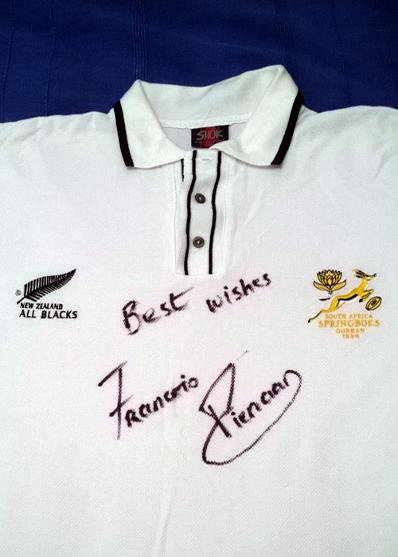 South Africa's Rugby World Cup winning captain FRANCOIS PIENAAR
signed Springboks v New Zealand (Durban 1998) polo shirt.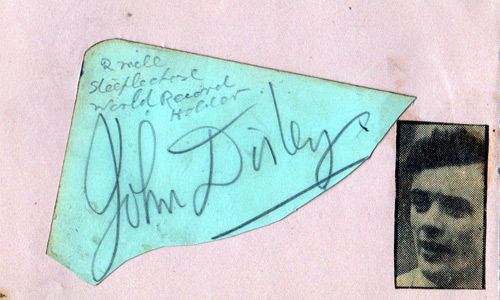 JOHN DISLEY (1952 Olympic bronze medal steeplechase) signed card.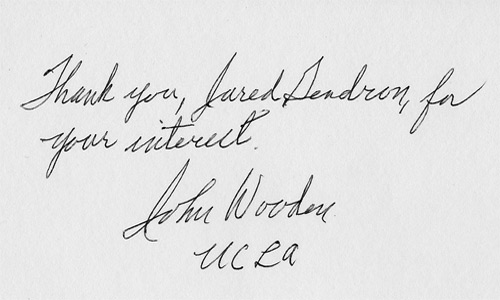 JOHN WOODEN (legendary UCLA basketball coach) signed card.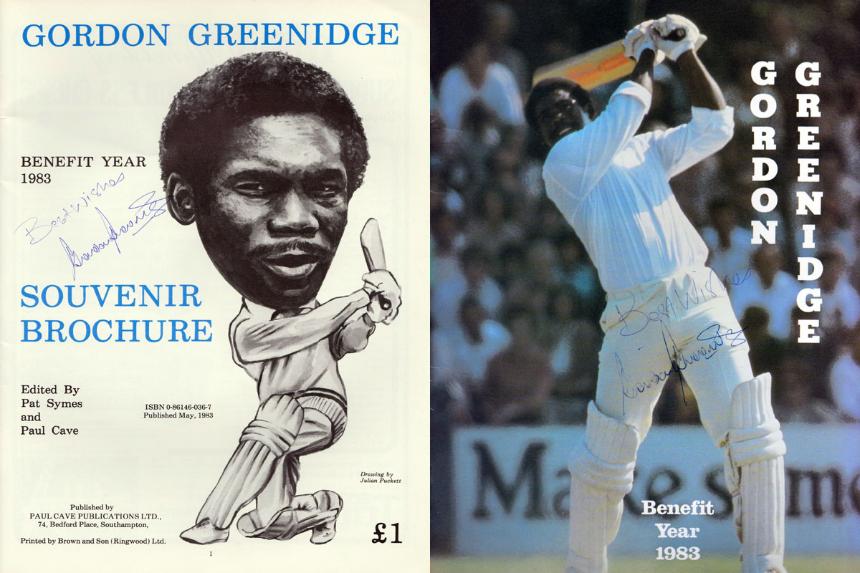 GORDON GREENIDGE (West Indies, Barbados & Hampshire) 1983 Benefit Year brochure (signed inside and on cover).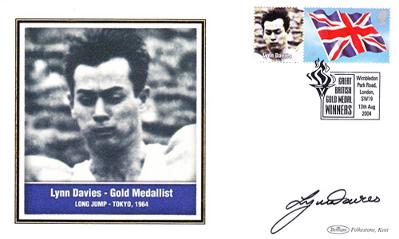 LYNN DAVIES (1964 Olympic Long Jump champion) signed FDC.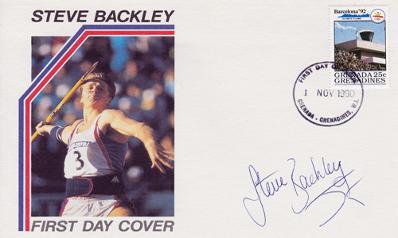 STEVE BACKLEY (former World Javelin record holder) signed FDC.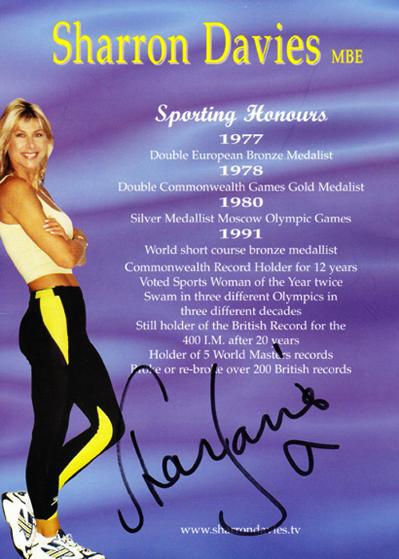 Biographical
promo card signed by
GB Olympic Swimmer & TV Gladiator Amazon
SHARRON DAVIES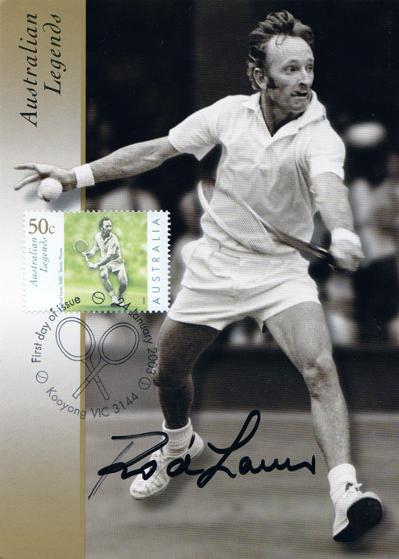 50c Tennis Stamp 2003 First Day Cover signed by Australian legend
ROD LAVER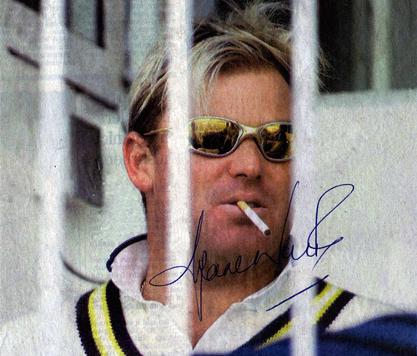 Yorkshire Post front page photo signed by
Australia & Hampshire leg-spinner SHANE WARNE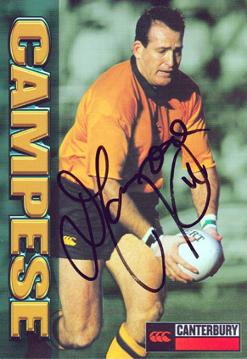 Australian rugby union winger DAVID CAMPESE signed card.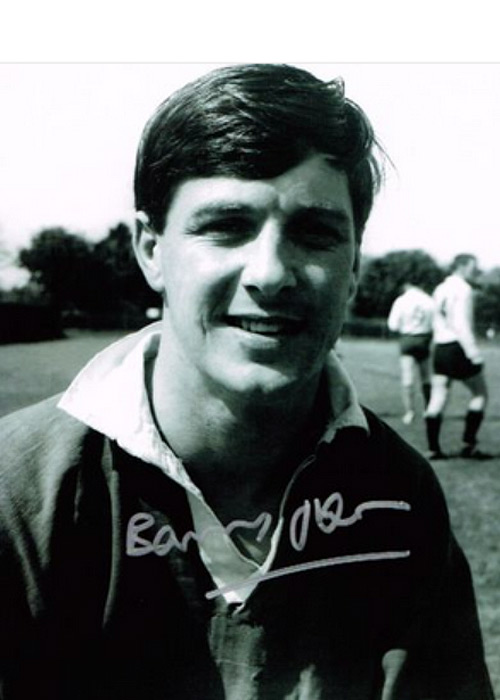 Wales & British Lions legendary Fly Half BARRY JOHN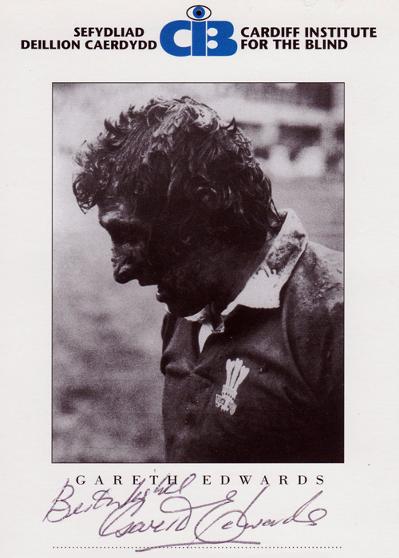 Wales & British Lions legendary Scrum Half
GARETH EDWARDS
signed Cardiff Institute for the Blind postcard.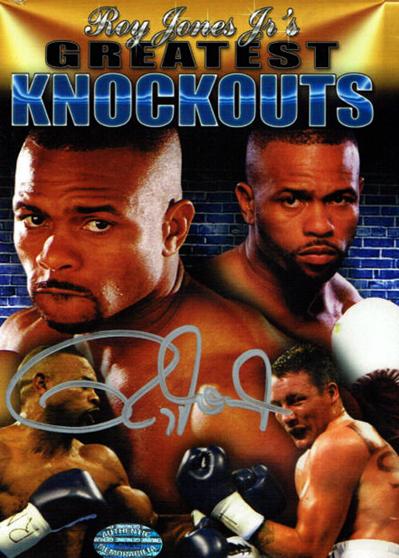 "Greatest Knockouts" DVD signed by multiple World Boxing Champion at four weight levels (middle- to heavy-) ROY JONES Jr.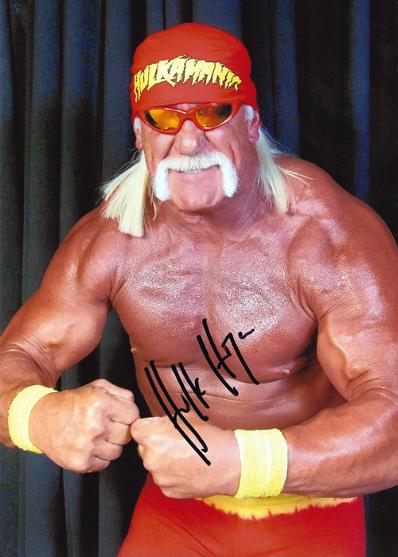 12-time WWF/WWE/WCW World Heavyweight Champion
HULK HOGAN signed photo.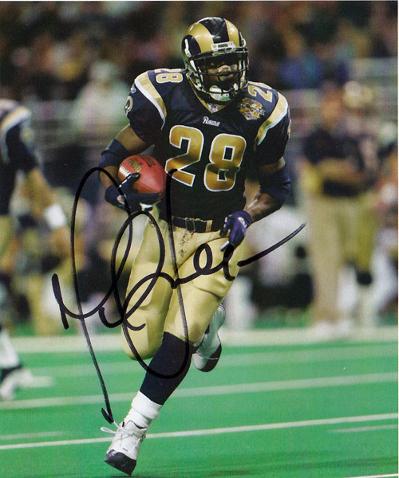 Rams' Hall of Fame running back MARSHALL FAULK signed photo.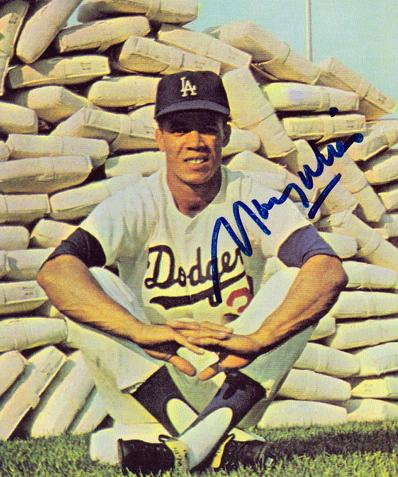 LA Dodgers base-stealing legend & 1962 MVP MAURY WILLS signed card.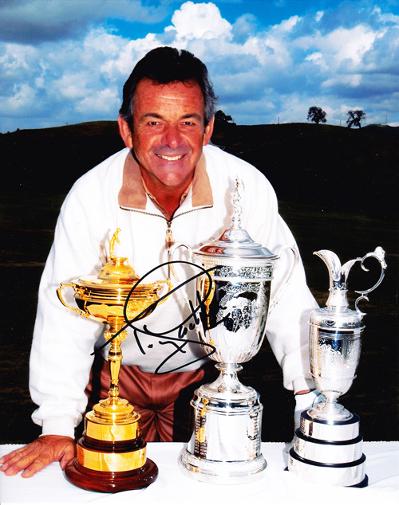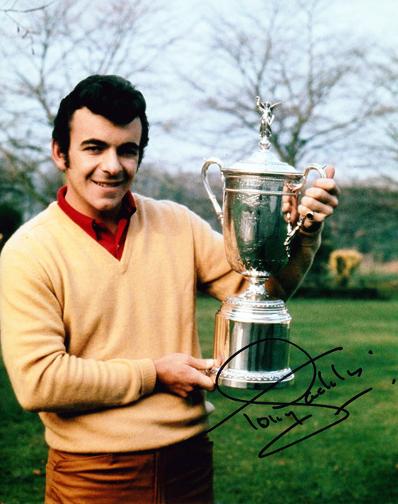 TONY JACKLIN signed photo with Ryder Cup, British Open Claret Jug and US Open golf trophies (also pictured on right).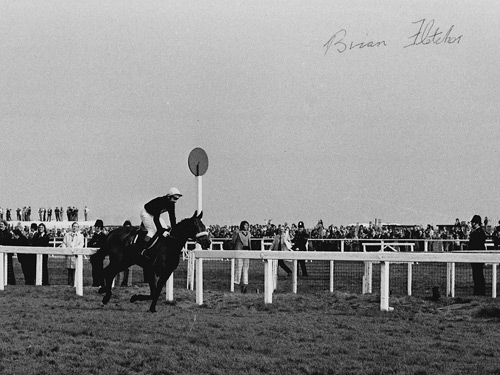 Red Rum winner of the 1973, '74 & '77 Aintree Grand National signed by winning jockeys BRIAN FLETCHER and TOMMY STACK.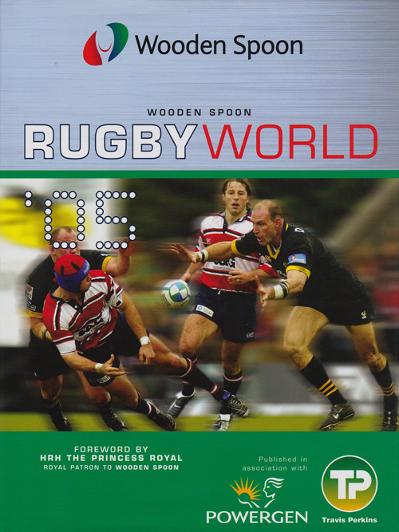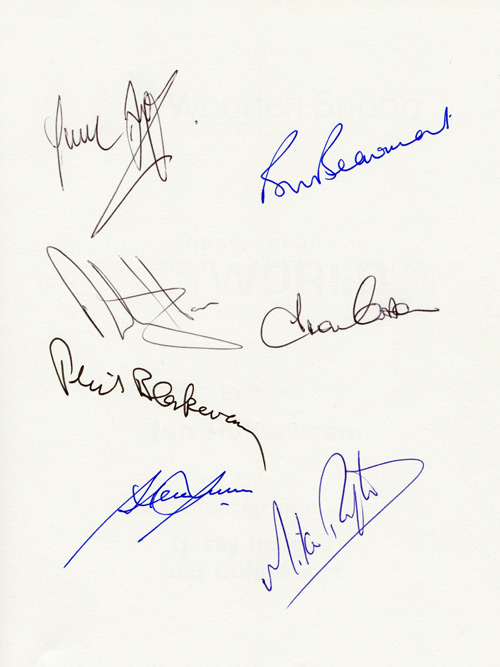 The Wooden Spoon Charity's 2005 Rugby World book signed inside by seven of England's 1980 Grand Slam winning squad:
Bill Beaumont, Dusty Hare, Fran Cotton, Mike Rafter, Steve Smith, Phil Blakeway & Paul Dodge.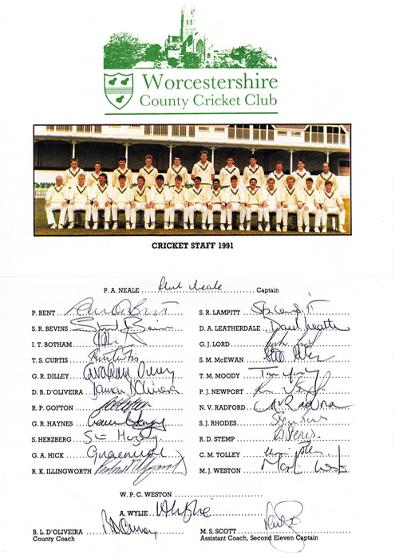 1991 Worcestershire CCC team sheet with autographs including:
Ian Botham, Graeme Hick, Glenn Turner, Tom Moody, Graeme Dilley,
Richard Illingworth, Phil Neale (capt) & Basil D'Oliveira (coach).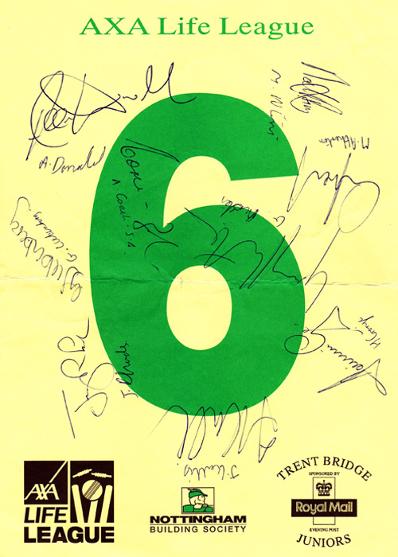 Trent Bridge 'six' card signed by members of 1998 South African tourists to England including: Allan Donald, Makhaya Ntini, Gary Kirsten, Jonty Rhodes, Hanse Cronje, Jacques Kallis & England's Michael Atherton.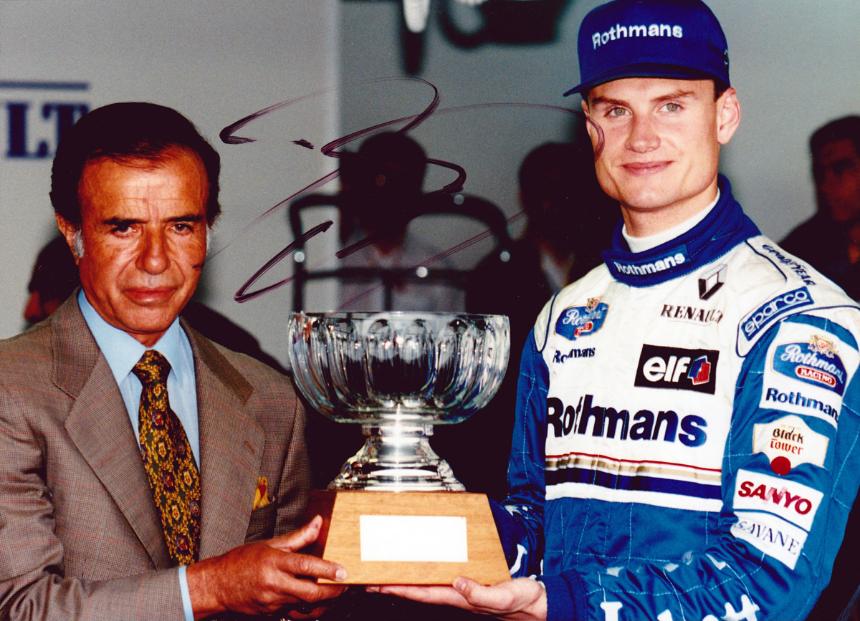 Signed photo of DAVID COULTHARD receiving the Pole Position Trophy at the 1995 Argentine Grand Prix
presented by the President of Argentina.

1987 US Open & '94 & '96 LPGA Champion LAURA DAVIES signed photos and golf card.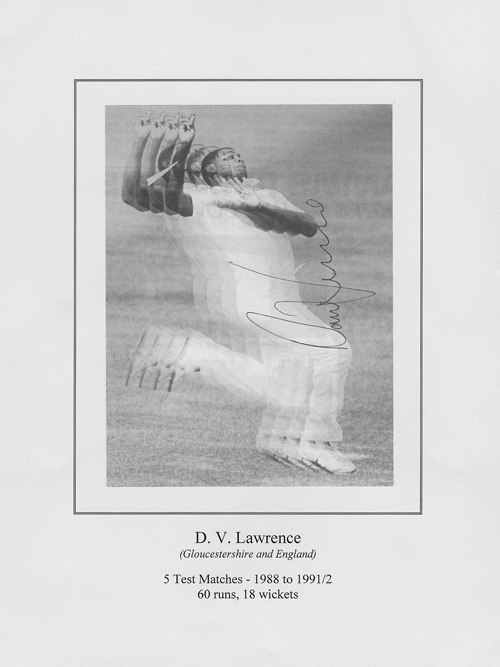 DAVID "SYD" LAWRENCE (England & Gloucestershire) signed photo.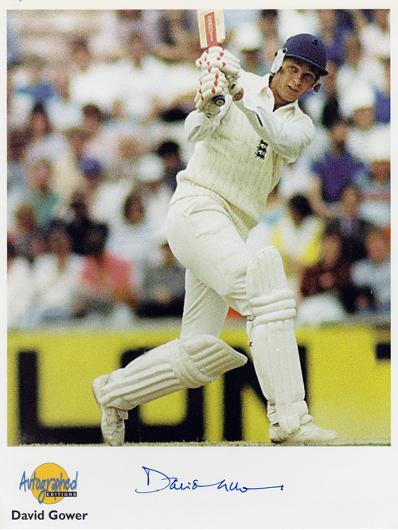 DAVID GOWER (former England captain) signed photo.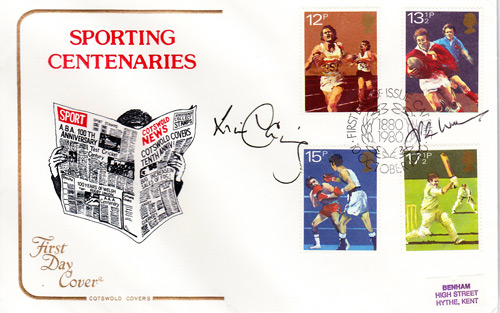 Sports FDC signed by JPR WILLIAMS (Wales) & WILL CARLING (Eng).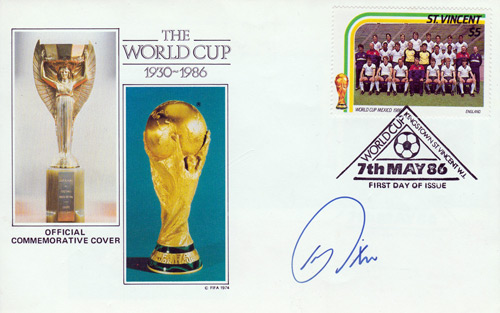 World Cup Football FDC signed by ex-England captain BRIAN ROBSON.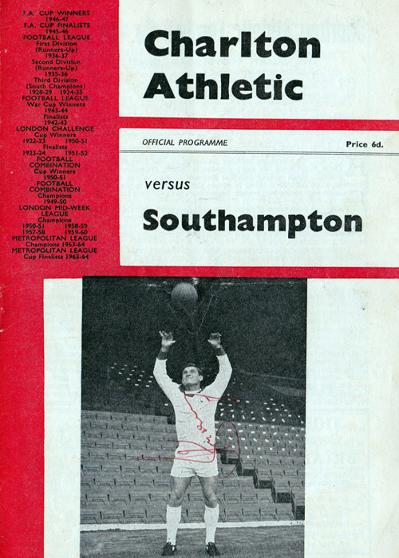 DEREK UFTON (CAFC 1949-1960) signed programme.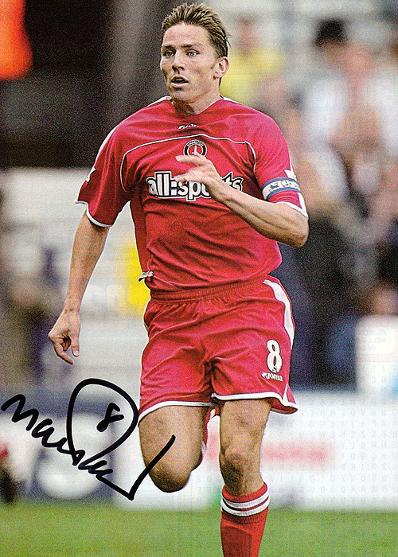 MATT HOLLAND (Charlton Athletic 2003-09) signed photo.

Former Australian cricket captain IAN CHAPPELL signed mini bat.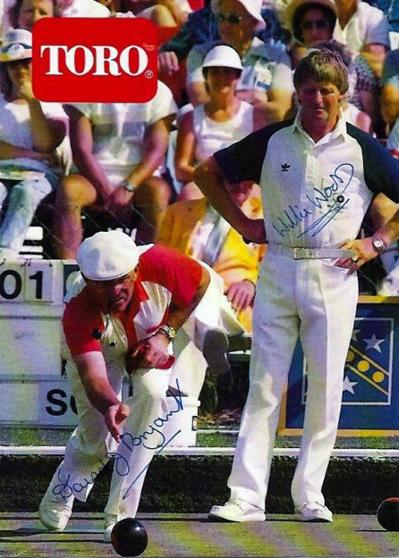 Six times World Bowls champion
DAVID BRYANT
with
WILLIE WOOD
signed brochure.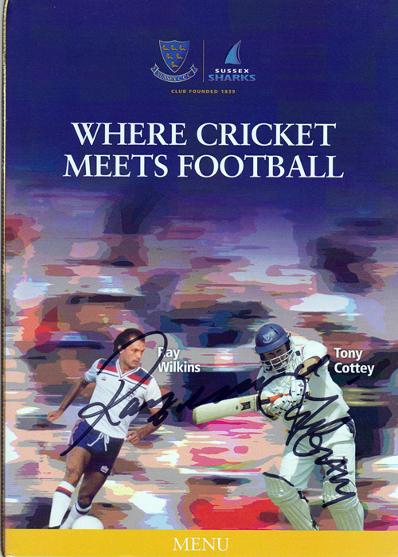 RAY WILKINS (ex-England football captain)
& TONY COTTEY (Sussex CCC) signed dinner menu.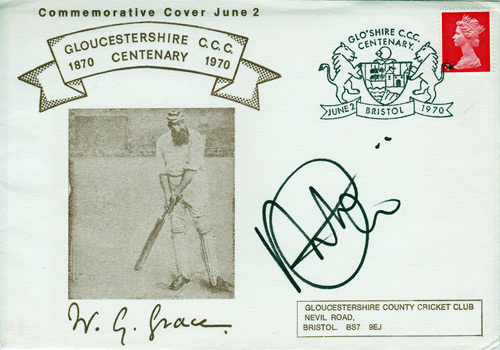 Gloucestershire CCC's ALEX GIDMAN signed WG Grace FDC.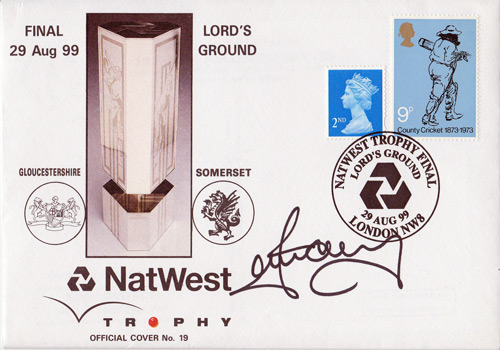 Gloucestershire CCC's IAN HARVEY signed 1999 NatWest Final FDC.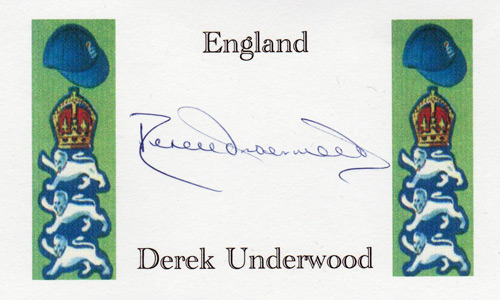 Kent CCC & England left-arm spinner DEREK UNDERWOOD
signed England cricket card.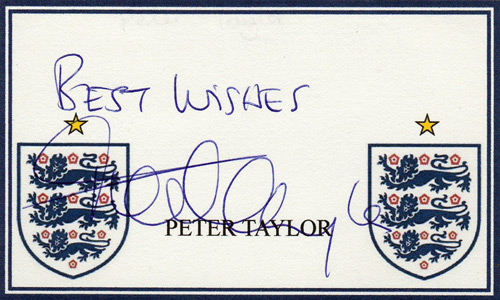 England caretaker manager & U21 coach PETER TAYLOR
signed England football card.