TRIAL by DARTS
reinvents the Dartboard ...
and revamps Darts as we know it.
Copyright: Colin M Jarman (2022)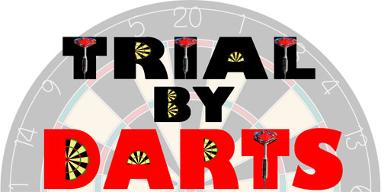 Six new darts-based Trials test the all-round skill & nerve of the world's top throwers.
TRIAL BY DARTS is an innovative TV sports challenge showcasing ingenious ordeals specially designed to stretch the ability & adaptability of professional darts players.
Trial by Darts seriously extends a world class player's arsenal by moving the "goalposts." As they practice for hours to repeatedly hit their favourite trebles & doubles, these Trials compel them to rethink and come up with new shots, new angles & new tactics.
The ten-week series crowns the Trial By Darts champion in a fresh, fun-packed format that will have darts fans wanting to emulate their heroes and challenge their friends.
Playing on six uniquely customized boards Trial By Darts is just that: the severest examination of technique and temperament in a highly-competitive, highly-addictive, highly-entertaining darts arena. This sporting combo makes for exciting television...
Especially since darts on TV has become big business again with huge audiences of all ages. The current PDC superstars (Taylor, Van Gerwen, Lewis, Wade) are matching the massive popularity of the BDO legends of the past (Bristow, Lowe, George, Wilson).
BUT ... whoever is playing at whatever level - the game of darts has changed very little in the last 125 years since the current regulation dartboard was adopted.
Pubs, clubs and pro circuits the world over still: use the same sized dart-board set the same height off the ground, stand the same oche length away, aim for the same twenty numbers & the same single bulls-eye in the same positions, using the same three darts...
The TRIPLE 20 never moves ... UNTIL NOW!
Colin M Jarman (Aug 2013)
The following SIX Trial By Darts challenges take pro players out of their 501 comfort zone
and into a whole new level - quite literally - of dart-throwing, scoring & excitement.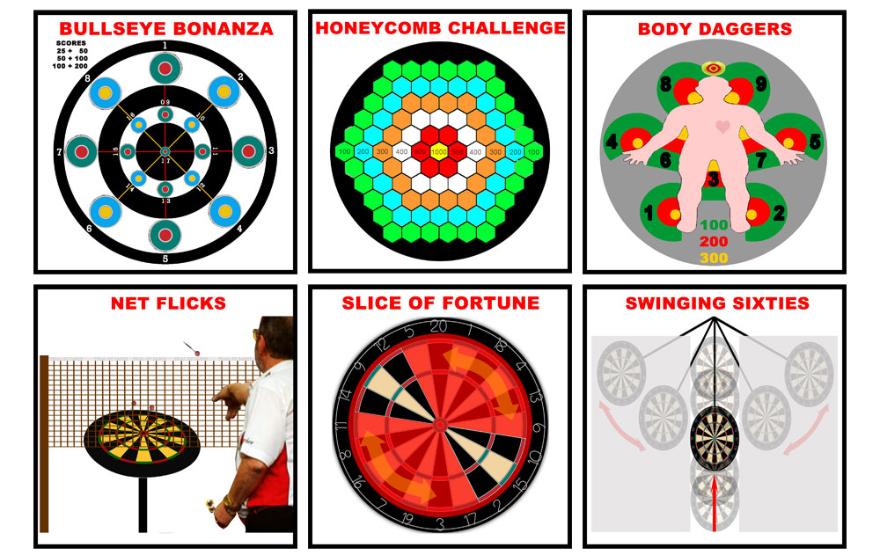 Board designs, set up formats and playing rules copyright Colin M Jarman (2013)
TRIAL BY DARTS
TV Version - "The Professionals"
10 x 60 mins series
Series schedule = 10 shows - 9 x 60 mins pre-record + 1 x 150 mins live event
6 x First Rounds = 18 players - 3 per show
+
3 x Semis = 9 players (6 winners + 3 best runners-up) - 3 per show
First Round & Semi- shows (pre-record / edit) follow the same format contested over the six TBD challenges.
Players have to score as many points in each challenge. The one with the highest aggregate at the end of each show is the winner. Top scoring runners-up also stand a chance to move on to the next round.
+
1x Final (3 winners + 1 best runner up) - 4 per show
Filmed LIVE in front of an arena audience to produce a two-hour special.
Includes direct head-to-head challenges, including a one-off SWAT-style challenge to ultimately decide the Trial By Darts Champion.
SET DESIGN
The Trial By Darts studio set is a stylised version of a Championship Darts stage - with added camera angles of the board and players. For instance, in "Slice of Fortune" - since no bulls-eye is needed - a camera will be inserted in its place for a boards-eye view of the players' action & reaction ... while incoming darts will be "in-your-face!"
CONTESTANTS
The main series is aimed at the world's top players. Just as 20/20 has redefined traditional cricket values and performance, the fast-paced and action-packed TBD TV series is a legitimate alternative to 501 matchplay action. The challenges are such that players will relish the chance to test themselves and compete against their peers across these diverse formats that remain fundamentally darts-based.
As well as the pros, TBD TV can be easily adapted for light-hearted Celebrity Charity Challenges and a Pro-Am Team version.
A TBD Club Tournament for the pub / club players and the public to enter will give the series a BDO grass roots level of competition and mass-participation. TBD side games - using three of the customized boards - will be staged at major darts events around the world to compliment the official matchplay action. This would provide players with another opportunity to win prize money and silverware, whilst allowing promoters to deliver extra entertainment for their paying audiences. The winners of these TBD side games will be invited to play in a 'Club Players' TV version.
Non-TV Formats
There are also less-challenging variants for the club and social player, as well as a home-based, interactive / educational format for all the family to enjoy. Trial By Darts is , especially suitable for the Wii (to allow children to play without real darts).
TBD mobile gaming apps are also to be developed.
Created by COLIN M JARMAN (2022)
All rights reserved
For all enquiries, please complete the following contact box...