For five years, from the launch of the new Roy of the Rovers glossy magazine in 1990, Colin worked closely with Roy Race and the two developed a special relationship from touring the UK meeting fans, players, managers, celebrities, etc., to recording a rock song [written by Colin] with Gary Lineker, and collaborating on the official Roy Race biography in 1994.
This is just a flavour of what the two got up in the early 1990s.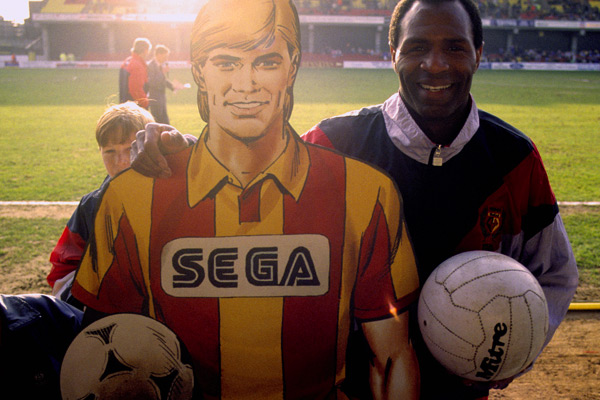 ROY & LUTHER BLISSETT at Watford FC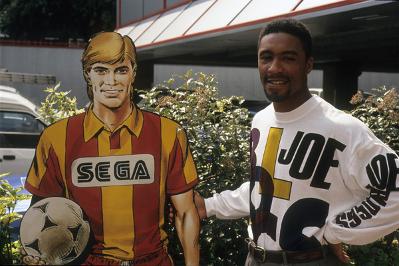 ROY & boxer MICHAEL WATSON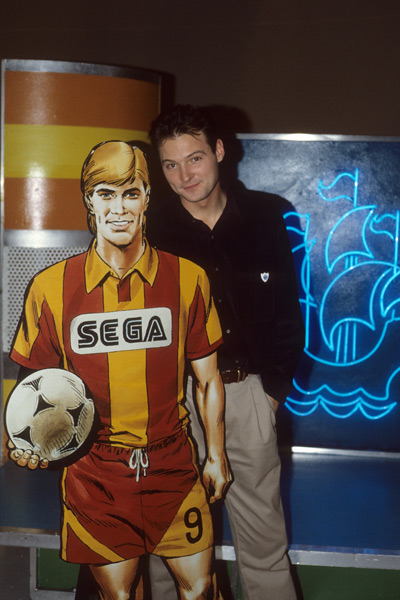 ROY & JOHN LESLIE on the BLUE PETER TV set.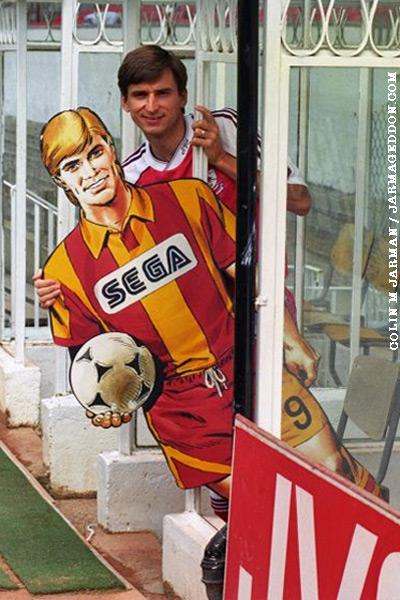 ROY & ALAN SMITH at HIGHBURY STADIUM.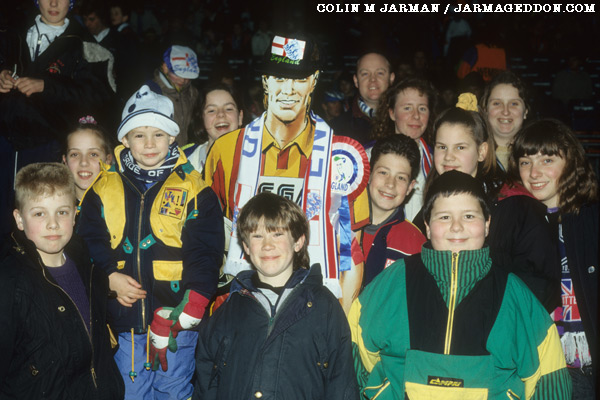 ROY RACE & England Fans at WEMBLEY STADIUM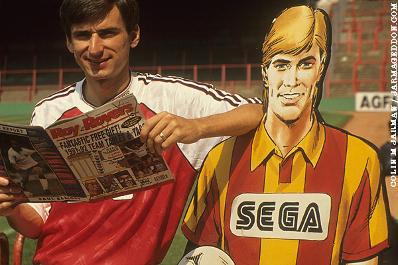 ROY RACE & ALAN SMITH at HIGHBURY STADIUM.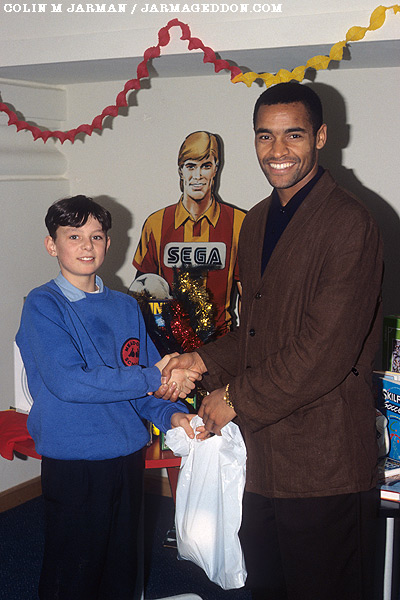 ROY RACE & MARK BRIGHT at WEMBLEY STADIUM.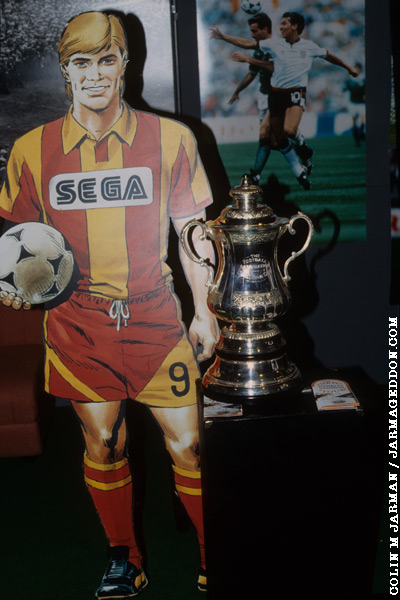 ROY RACE & THE FA CUP TROPHY.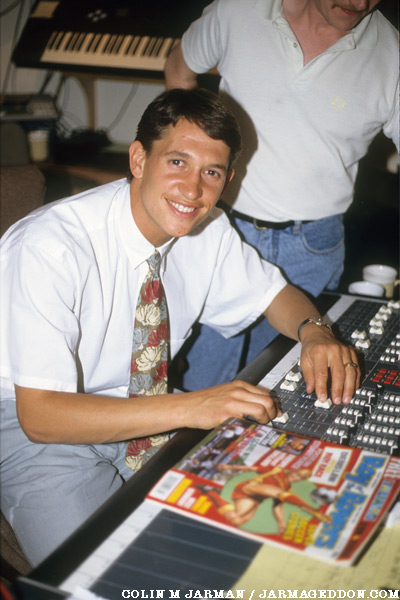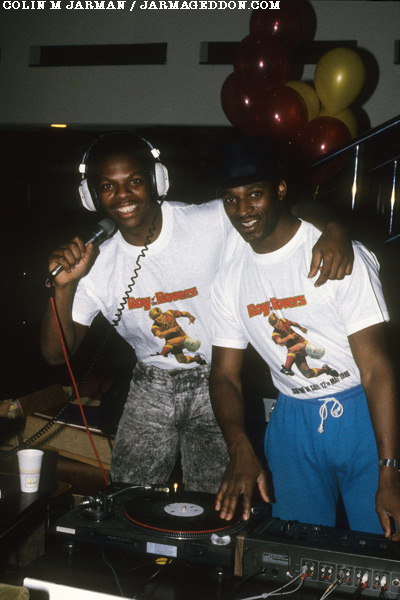 Colin and Roy teamed up on two major media projects...
1. The Official Roy Race Biography - The Playing Years Published in 1994 to celebrate Roy's 40th anniversary of Roy of the Rovers.
2. "Europe United - Let's Work Together" a rock song recorded by Roy Race and Gary Lineker [pic above right at mixing desk] - with "Roy Race Rap" on the B-side recorded by Wade Locket and DJ Spatz [pic above right]. Both sets of lyrics written by Colin.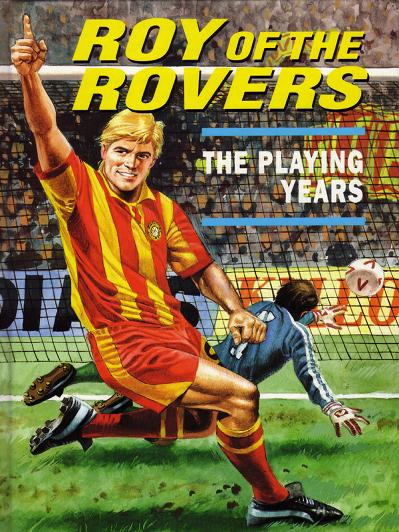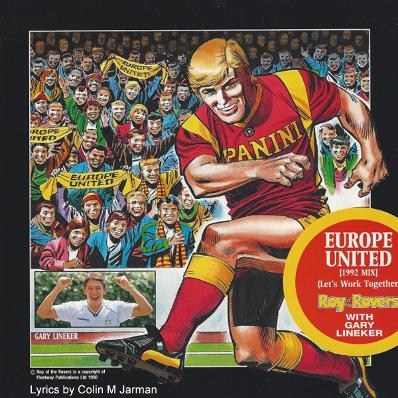 Europe United - Lets Work Together.mp3

In 1994, while promoting my Official Biography of Football Legend Roy Race I was also appearing as Statman on Sports Wire's live TV soccer coverage.

Mark Webster - the show's host - was persuaded to insert himself into the Melchester Rovers line up to read the following evening running order.
Wearing an authentic Rovers playing jersey (we had a harder time persuading Mark not to wear a Hammers' top...) he found himself magically transported into the pages of "Roy of the Rovers - The Playing Years." Keep Smiling, Boys!!

Signed copies of my Roy Race "Playing Years" biography are available from http://www.blueeyedbooks.com/roy-of-the-rovers.php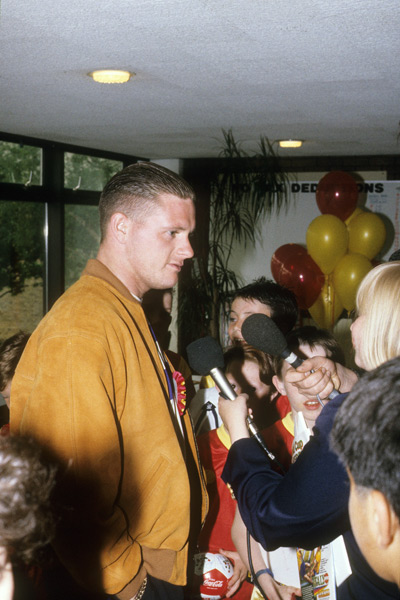 PAUL GASCOIGNE
at the ROY OF THE ROVERS LAUNCH PARTY.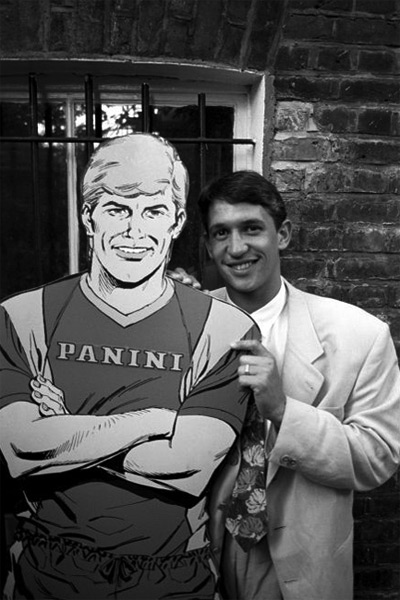 ROY RACE &
HIS SINGING CO-STAR GARY LINEKER.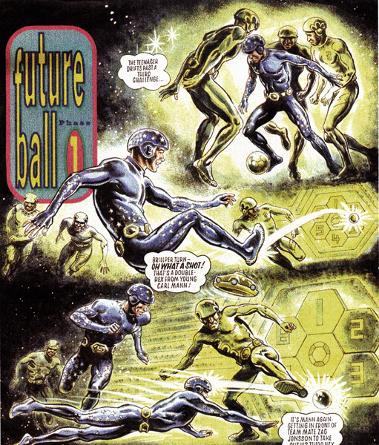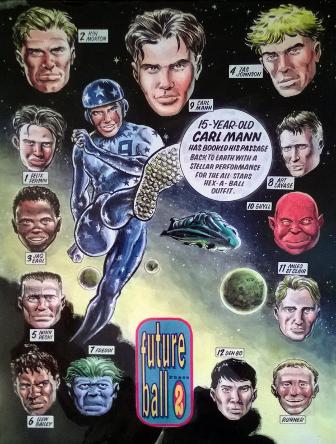 In 1992, I wrote an original comic strip story for ROTR magazine titled "Futureball" - a sci-fi soccer story featuring the adventures of 15-year-old Carl Mann and his Ecaryor HexaBall team on their InterGalactic travels.